Mastersteel Summer Tyres
Mastersteel summer tyres are for everyone. All Mastersteel summer profiles are available in a wide range of sizes. If you opt for the summer tyres of Mastersteel then you are guaranteed a high quality product. The special compound (rubber compound) and profile design guarantee that the Mastersteel summer tyres are a comfortable and safe ride.
In all weather conditions the Mastersteel summer tyres functional optimal and the driving and braking of the car remains predictable. The Mastersteel summer tyres are a excellent value for money and must not go unmentioned. If you want to profit from excellent quality tyres for a competitive price, then Mastersteel is the right choice for you.
About: Mastersteel MASTERSTEEL LIGHTTRUCK
---
With an extra high carrying capacity the Mastersteel Lighttruck is designed especially for heavy work. The Mastersteel Lighttruck has a special rubber compound, reinforced carcass and a balanced profile. Even with a maximum load the tyre guarantees optimal performance. The Mastersteel Lighttruck is an ideal tyre that meets the high demands of transport and delivery vans. Van Tyres should be durable and a long lifespan is required. The Mastersteel Lighttruck is a reliable van tyre.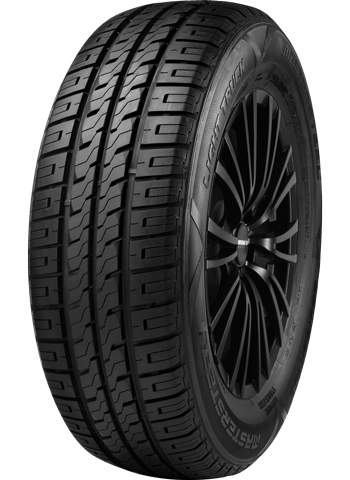 Sizes: Mastersteel MASTERSTEEL LIGHTTRUCK
---
| | | | | | | | |
| --- | --- | --- | --- | --- | --- | --- | --- |
| 75 Series | | | | | | | |
| 185 / 75 R16 | | 104 | S | E | C | 2 | 72 |
| 195 / 75 R16 | | 107 | R | E | C | 2 | 72 |
| 215 / 75 R16 | | 113 | S | E | C | 2 | 72 |
| 70 Series | | | | | | | |
| 195 / 70 R15 | | 104 | S | E | C | 2 | 72 |
| 225 / 70 R15 | | 112 | S | E | C | 2 | 72 |
| 65 Series | | | | | | | |
| 195 / 65 R16 | | 104 | T | E | C | 2 | 72 |
| 205 / 65 R16 | | 107 | T | E | C | 2 | 72 |
| 215 / 65 R16 | | 109 | T | E | C | 2 | 72 |
| 225 / 65 R16 | | 112 | T | E | C | 2 | 72 |
| 235 / 65 R16 | | 115 | T | E | C | 2 | 72 |
| - | | | | | | | |
| 185 R14 | | 102 | R | E | C | 2 | 72 |